Teaching your child to read will be one of the most rewarding experiences you'll ever have.
Ok, so maybe that's not true for everyone. But I can say from my own experience that this statement is absolutely true!
The transformation that happens in your child as they go from not even knowing their letters to reading full sentences is amazing and thrilling!
Certainly it doesn't happen overnight and may take years of practice before they are fluent readers. But even so, it is a wonderful process to be a part of.
Playing a role in that process can be so much fun and also really important for you and your child.
Here are 7 great reasons to teach your child to read at home
You'll…..
Get to know what type of learner they are
Experience the joy of books together
Model the importance of reading (and how much fun it is!)
Provide them with an environment free of pressure
Create memories you'll always cherish
Get them started on the path to becoming a lifelong learner
Take part in the amazing process of your child's learning
Not sure you are up to the task?
If you are not feeling 100% certain you should be the one to teach your child to read, let me reassure you that you will do an amazing job.
You know your child better than anyone. You love your child. Plus, you are reading this which means you can read and are therefore qualified!
I really think a lot of parenting is about us getting thrown into it whether we are ready or not. So I figure that teaching anything to our children is not really about being ready but more about just making a commitment to do it.
So if teaching your child to read sounds like something you'd like to do (or they are showing signs that they are ready and you don't want to hold them back) then by all means go for it!
Do a Skill Check Before Getting Start (not your skills but theirs)
Before you move forward with getting any materials or working with them you'll want to make sure your child is ready to read.
In order for them to get started out right (and at the right time) it is best if they exhibit five essential skills. If they do, then they are probably ready to get started! And if not, then the next step is to help them gain these five skills.
The five skills they should exhibit as indicated by the wonderful reading specialists at All About Reading are:
Print Awareness
Phonological Awareness
Letter Knowledge
Listening Comprehension
Motivation to Read
If you want to find out more about these five skills there is a free downloadable Reading Readiness checklist on their site.
Whether or not your child is ready to begin learning to read or needs some work on those five skills, there are awesome resources available for both situations.
I personally experienced both. My son was always way ahead of the game with reading and knew how to ready many words by the time he was three and he fluently read readers when he was four. The first program I purchased for him was All About Reading Level 2.
(You can read my full review of All About Reading Level 2.)
Teach the Skills Needed to Begin Using AAR Pre-Reading
But my twin daughters were on what I would describe as a more common path and so I started them out with All About Reading Pre-Reading when they were three-years-old in order to help them with those five essential skills.
They worked on AAR Pre-Reading for about two years until they were five and then began All About Reading Level 1. During the early years we just read a lot of books together and enjoyed the activities in the pre-reading program.
Every child is different so please keep that in mind as you are considering your own child's needs.
What resources are best to use?
You can read What is the Best Reading Program to Teach My Child to Read? to find out my complete thoughts. But as you can probably already tell, I am a huge fan of All About Reading.
We have worked through all the levels of their reading program and loved them all. My girls and I have some of our best at-home learning memories from using this curriculum.
There are other reading programs out there but of the ones I looked at or tried, All About Reading is by far the best (at least for us).
Now, if you are homeschooling your child during their early years then it is easy to get started. Just head on over to AAR and read through the readiness checklist to determine if they are ready for Level 1 or could benefit from the Pre-Reading program.
But maybe you aren't homeschooling and your child is in preschool or daycare. Then what? Well, then you will have to take a look at what program or materials they are already using. Then you can either just take the time to work with them at home using those materials or additionally supplement with another reading curriculum such as AAR.
Of course you don't want to overwhelm or confuse them so that'll be something you'll need to decide based on their specific situation.
If you want to learn more about All About Reading you can head on over and download some sample pages. They provide enough pages in their samples so that you can actually try out some of the activities. It's such a great way to see if their products are right for your family.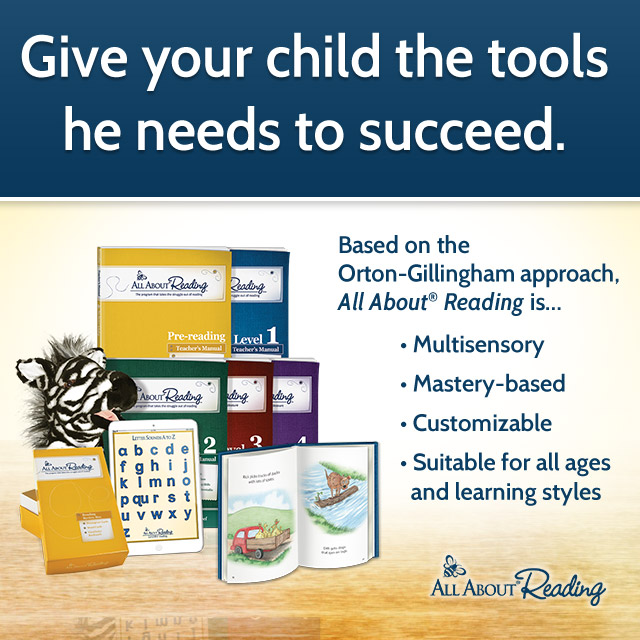 Questions or comments? Hit me up in the comments section below!