Note: This post contains affiliate links. Please see my disclosure policy.
Finalizing curriculum choices for the year is always exciting! After four years of homeschooling I've learned that while going through the process of deciding, I need to remind myself to keep things simple. I have a way of trying to pack too much in which in turn, overcomplicates our lives. But when I pull in the reigns and keep it simple that allows us to focus on what is most important in our homeschool.
In the past, when I've tried to cram too much into our days, it creates a lot of stress for everyone and all kinds of things begin to suffer. Important things like: joy, relationships, love for learning, excitement, focus, sanity. Those are the things I want to keep in our home so I'm going to try my best (and pray) not to get distracted by the less important things.
It's also easy to see what someone else is doing or find out about a new curriculum choice and shout "squirrel!" and chase after it because it looks so appealing and exciting. But before you know it you are way off track from the main goals in your homeschool. That's why it's so important to start out by determining your mission, goals and objectives. (I'll be sharing more on that soon).
However, I also want to note that sometimes the best thing we can do in our homeschool is change our curriculum choice mid-year. I did that last year and it was a good choice for us as it brought a lot more joy into our days.
Before I tell you our curriculum choices for the year, I want to mention that Joey and I find a lot of value in having the kids involved in outside groups and activities so that is a priority for us. Not just for the sake of being involved, but having the kids participate in groups with high value that meet their educational and social needs keeps us all happier and healthier. There are some weeks where these outside groups and activities take up a big chunk of our time so I have to be realistic about our schedule at home.
And with that, here are our 2016-2017 curriculum choices:
Kellan 3rd Grade-ish (8.5 yrs old):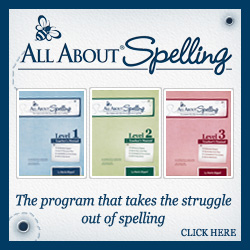 Jenna & Alaina 1st Grade-ish (turning 6 yrs old this week):
Math U See Alpha / CTC Math ~ The girls really enjoy Math U See so we will mainly be using that for them. We will supplement with CTC Math.
All About Reading ~ The girls are still working through Level 1 but will most likely be finished early in the year and then we will begin Level 2.

What we will be working on as a group:
Five in a Row ~ We switched to Five in a Row mid-year last year and you can read more about why. With FIAR, each week we read a different picture book and have lessons related to the book and the topics within the book. The following subjects are included in each weekly study: social studies/geography, language arts, art, math and science. It is flexible as you can pick and choose what topics to discuss and activities to complete. For us, we often don't touch on the math portion because we have a separate math curriculum. Also, I like to pull additional art activities and books into each study. And I am skipping around through volumes 1-3 because I like to pick and choose the units depending on the season and whatever else we might be discussing or the kids have an interest in at that time. The thing I love the most about FIAR is that we are reading great literature and making wonderful memories together as we work through our units!
Apologia Astronomy ~ I am over the moon (ha!) excited about this! I cannot wait to work through this with the kids. I ordered the Learning Resource Inflatable Solar System as a supplemental model. This should be fun! 🙂
Notebooking / Copywork ~ The children will be doing notebooking and copywork related to what they are learning through Five in a Row, Astronomy and Who is God?. We will use notebooking pages from NotebookingPages.com.


Memory Work ~ The children will be doing more memory work this year to include Bible verses, prayers and patriotic songs.
Bible ~ Along with reading verses right out of the Bible we will also be reading from these sources: Jesus Storybook Bible, The Complete Illustrated Children's Bible, I Am: 40 Reasons to Trust God, Who is God? from Apologia.
Read Alouds ~ I have revamped our school room to make it more comfy for read alouds. (I got this super duper big bean bag pillow for us to all sit on). Read alouds will be a priority for us this year. First on our list is Because of Winn-Dixie.
Further details about our outside classes and activities: all three kids attend outside homeschool classes for nature study and then separately, gym, art & writing. Kellan is in karate and Jenna and Alaina are both in ballet. We will also be involved in 4-H this year. And all have expressed interest in taking music lessons but that is something we are still considering at this point.
If you are interested in seeing some of our past year's curriculum choices:
Curriculum choices for 2015-2016
Curriculum choices for 2014-2015
Curriculum choices for 2013-2014
Here's to an amazing year, friends! Cheers!